Dainik Hindustan Reports the Anomalies in the Issuance of Driving Licenses in Delhi
The Dainik Hindustan (the Hindi newspaper, Delhi edition dated 13th July, 2012 page 3), came up with a news report on the anomalies and corruptions rife in the issuance of driving license to people in Delhi. The attached image is the clipping from the news. The whole of page 3 can be seen by clicking here. For those who do not know how to read Hindi, I am providing a translation of he news report below: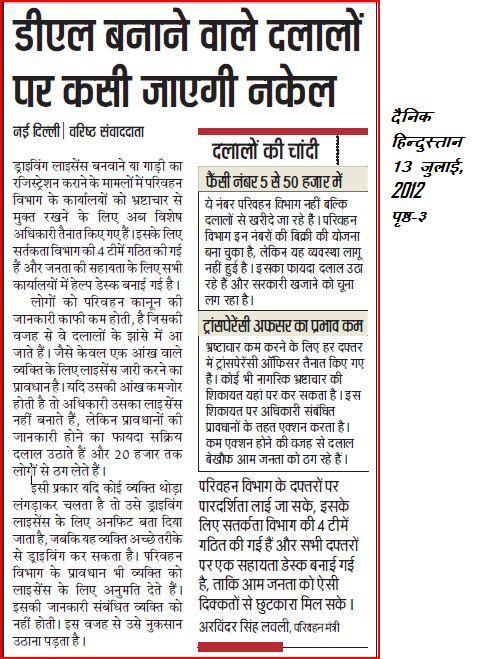 DL Brokers will be nailed
New Delhi| Senior Correspondent
Special officers have been deployed to keep the offices of the transport department free of corruption in cases like getting a driving license or registering vehicles. For this 4 teams of vigilance department have been constituted and Help Desks have been set up in all the offices.
People have much less knowledge of the transport laws due to which they get trapped in the lies of the brokers. For example there are provisions to issue the license for people with vision in one eye. If his/her eye is weak then the officers do not issue them a license. But the active brokers take advantage of such situation and cheat such people huge amounts up to 20 thousand!
Similarly, if a person limps then s/he is declared as unfit to drive while such a person can drive very well. The provisions of the transport department also allow such people to hold license. But because this information is not available to the concerned persons, they have to bear the brunt of it.


Translation of Quotes in the Report:
Brokers Glitter!
Fancy Numbers for 5 to 50 Thousand
These numbers are bought not from the transport department but from the brokers. Transport department has planned to sell these numbers, but this system is not yet implemented. Brokers are taking advantage of this while the public exchequer is getting robbed.
No Effect of the Transparency Officer
Transparency Officers have been deployed in each of the offices to end corruption. Any citizen can complain of corruption here. Upon this complaint the officer takes action based on the concerned provisions. Because of few actions the brokers dupe the common people fearlessly.

Four teams of the vigilance department have been constituted to bring transparency on the offices of the transport department and a help desk has been created in each of the offices so that common people get relief from such problems. -- Arvindar Singh Lovely, Transport Minister